Welcome to the Ewelme Benefice
Serving the parishes of Dursley; the churches of St James the Great and St Mark's, and Uley with Owlpen and Nympsfield; the churches of St Giles, Holy Cross and St Bartholomew's
The Ewelme Benefice was inaugurated in June 2018 and takes its name from the River Ewelme which runs through the two parishes, symbolically linking them.
OUR VISION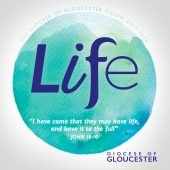 As members of the Ewelme Benefice, we will work together to share in the Diocese of Gloucester's LIFE Vision. 'I have come that they may have life and have it to the full' John 10:10.
We hope that you will join us at one of our services or other events. Please do get in touch if you want any further information.
NB - We are having a Recital of Familar Organ Music at Owlpen Church on 26th October tocelebrate and fund-raise for our newly restored organ - Details here